Types of Jib Cranes
There are 4 main types of jib arms, the first being profile jib cranes, where the bracings are located above a c-track profile. This type is the most free running along the arm length and therefore is generally the easiest type for the operator to use.
Over Braced Profile Track & Trolley Type Jib Crane: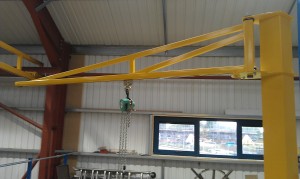 The second type is over-braced I-beam jib cranes, which are braced the same as profile arms, but with an I-beam underneath rather than a c-track. These are generally used when powered travel is required along the arm, as powered travel trolleys for I-beams are considerably cheaper than those for c-track profiles.
The third type is under-braced I-beam jib arms, which are braced below the arm onto the underside of an I-beam. These are the lowest headroom variation and therefore are normally used in areas where headroom is limited.
Under-braced I-beam Type Jib Crane:
The fourth type of jib crane is a knuckle or articulated jib crane, where the arm is made in 2 sections. The 2 arm sections pivot at the joint and therefore allow the arm to cover an almost complete 360° slewing arc.
Articulated/Knuckle Type Jib Crane: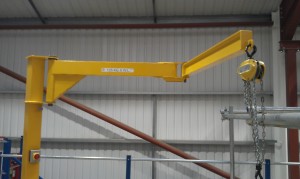 There are other types of jib arms including under-braced profile c-track and telescopic arms, but these are normally bespoke fabrications designed to meet very specific non-standard requirements.
Most jib cranes are usually supplied in kit form and can be fixed by one of the following methods: either onto a freestanding pillar or clamping around a column or bolted directly onto the face of a wall. Freestanding pillars can usually be bolted directly to a concrete or steel floor, but where the floor is not strong enough it may be necessary to set an anchor frame into a concrete block. Clamp around or column mounting bracket kits are used to clamp around an existing column, stanchion or beam providing it is strong enough to take the loads inflicted by the jib arm. This would always need to be locked into position with an anti-slip device to stop it from sliding down the column. Face fixing jib arms are usually bolted directly to or through a wall, providing a structural engineer has proved that the wall is suitable. Jib cranes can be used for both indoor and outdoor applications, but the jib needs to be finished appropriately to suit the environment.
Indoor jibs are usually painted or powdered coated and outdoor jibs are usually hot dip galvanised. However for extreme environments it may be necessary to have stainless steel jib cranes or other special treatments.
For the UK market jib cranes should be designed and manufactured in accordance with BS7333.
Jib cranes are sometimes referred to as: jib cranes, slewing jibs, profile jibs, c-rail jibs, c-track jibs, pillar jibs, slewing jib cranes. Niko Ltd has been manufacturing jib cranes for over 10 years; follow this link to find out more about our jib crane range: http://niko.co.uk/Cranes/JibCranes/68/