Latest Blog Posts
---
by dan on 01-10-2015
"Trellis Track" is the latest edition to the Niko Ltd range of profile tracks. The trellis track can be used to make light cranes, monorails and also as fall arrest track. There are two major advantages of using trellis track compared to conventional spine track:


Trellis track can span far greater distances, in some instances up to 10m unsupported.


Trellis track is much easier to handle for installation engineers, whereas conventional spine track can be unbalanced and awkward.


In this application Schneider Electric UK are using a Niko Ltd light crane with trellis track on the downshop and bridge rails. It is used to lift and turn equipment on to assembly benches. The solution has improved their productivity in two ways, by:


decreasing the time taken to lift, move and turn equipment.


reducing the required number of operators from three to two.


---
by on 09-09-2013
Most crane systems and moving machinery require some form of travelling power supply, to feed the end carriages and hoists etc. At Niko Ltd we provide 2 alternative power systems, the first is NCL an enclosed conductor bar and the second is a c-rail festoon cable supply system. Both systems run alongside the machines they are feeding and enable the system to move freely, while still providing a consistent power source. The advantages of the NCL enclosed conductor bar are:


Power can be provided to a specific section of the system, or the whole system when required. This is possible because of the ability to power either from the end or the middle of the conductor bar.


An Enclosed Conductor Bar can also provide power to multiple systems at once.


Niko Ltd stock NCL in 64, 78 and 100amp systems, but are also able to provide 140 and 200amp upon request to suit multiple power requirements.


Enclosed Conductor Bar unlike Festoon has no limit to the length of system.


NCL is provided in anything up to 4 metre lengths, ensuring that any size system can be powered.


NCL is also ideal for use around corners, where festoon may snag or become tangled.


NCL is useful for low headroom systems because there is no low hanging cable. This beneficial as a safety factor as no one can get caught up in the cable.


Space saving because there is no bunch up area, this also helps keep the system tidy.


Simple and easy to install.


The advantages of the c-rail festoon cable supply system are:


C- Rail Festoon Supports Niko Ltd's range of cable varying from 4 to 12 core, this allows for a large range of power supplies to be supported in comparison to NCL.


Power can be supplied directly to the hoist or remote control rather than a section of the system.


Festoon is the most cost effective method of powering a system, as it can be used for any type of crane.


Festoon can be used on a variety of crane systems including jibs, overheads, A cranes etc.


---
by dan on 26-06-2011
Sunday 26th June 2011 Here we are all set to leave lands end cold and blowy at the moment but soon turns into a heatwave as we move inland. No major problems to report. Everything going swimmingly. Arrived in the midlands for our first overnight stop at 6pm.
Monday27th June 2011 7am ready for the off...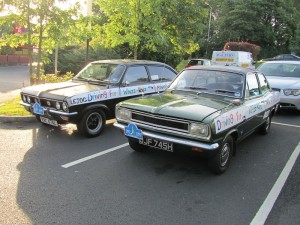 Already very hot, looks like it could be another hot day as yesterday. Black viva suffered loss of alternator bolt,but that was the only issue. Cruised up the M6 no traffic hold ups, approaching the lake district scenery getting better as we are leaving industrial England.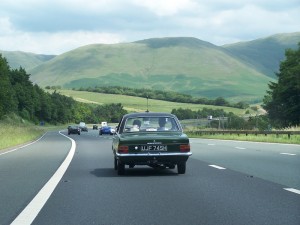 Entering Scotland.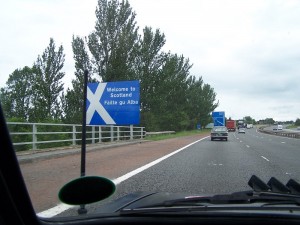 Made it to our overnight stop at Stirling weather deteriorated (got worserer) the further into Scotland we got. But the evening turned out to be fine. This section of the journey was plain sailing,we look forward to Tuesday's change in terrain and more exciting roads.
Tuesday 28th June 2011 Early start from Stirling in bright sunshine, we headed towards Fort William, stopped to take in some of the beautiful scenery.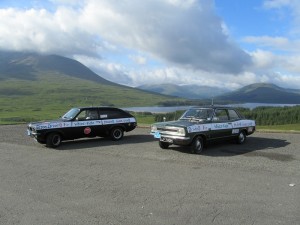 Encountered some technical distractions with the black Viva.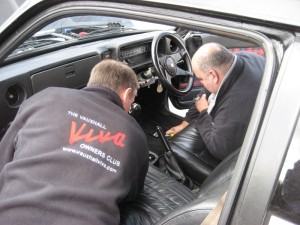 Once resolved allowed us to enjoy not only the scenery but the excellent driving roads. This took us along the shores of Loch Ness.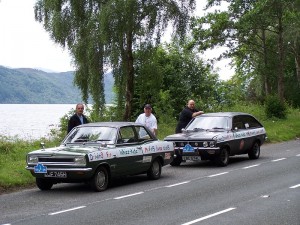 Where we stopped for a picnic lunch then on up to Inverness and onward to John O'Groats.
We made it after an 11 hour day. My green Viva continued to perform well throughout the journey with only a blown fuse. This has been a challenging, but enjoyable, trip and I thank my colleagues Danny, Fred and Paul for their support and camaraderie throughout. ALL we have to do now is get back home, this we will do via Edinburgh and the East coast, in time for the Vauxhall, Bedford and Opel National gathering at Billing Aquadrome next weekend.
Regards
Mike & friends