Niko B Folding Door Track Systems
Niko industrial folding door track systems comprise of a range of track sizes and components that bolt together to facilitate sliding and folding movement for opening and closing doors.
Characteristics of Niko industrial folding door track range:
Door weights from 10kg to 500kg
Internal and external applications
Centre folding or end folding variations
Range of brackets for various fixing methods
Range of hangers for all types of doors
Suitable for steel or timber doors
No limit to the opening size
Applications
Niko industrial folding door track is the ideal solution for a large range of applications including:
Folding doors for factories and industrial units
Warehouse folding doors
Folding doors for aircraft hangars
Agricultural folding doors – barns, farms and stable partitions
Commercial folding doors – restaurants, shops, garages, schools, offices etc.
Advantages of Niko B folding door track systems
Easy to install, extend or move
Free running - requires 1/100 weight to force ratio to move doors
Low maintenance - bearings and track do not need to be oiled
High reliability – certified for 100,000 cycles
Near silent operation
Easy to use
Tapered edge track profile means door hangers always run smooth and do not snag or bind
Compact size – allowing for space utilisation
Track profile designed to reduce build up of dust, dirt and ice
Space effective solutions for sliding doors
Components Kit
Standard components for a folding door track system.
| | | |
| --- | --- | --- |
| Key | Part | Purpose |
| 1 | Top track | Suspends the weight of the door |
| 2 | Support brackets | For fixing track to wall or soffit etc. |
| 3 | Leading hanger | Usually the same as the other hangers (see 4 below). |
| 4 | Hangers (also known as trolleys, runners or wheels) | Slide inside top track |
| 5 | Door bracket | Fix to top of door panel and fasten hanger |
| 6 | Floor guide | Fix to bottom of door panel and locates inside guide rail |
| 7 | Floor guide track | Stops swinging motion of door panels |
| 8 | Track End Stops | stop hangers leaving top track (not shown on drawings) |
Example layout 1 - folding from one side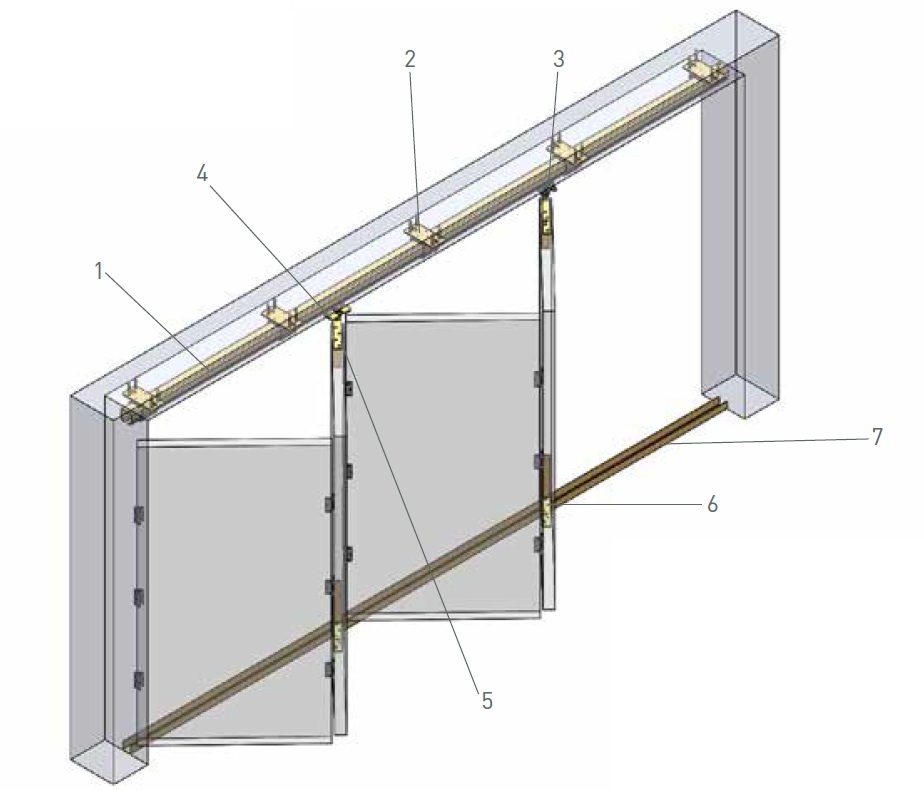 Example layout 2 - meeting in the middle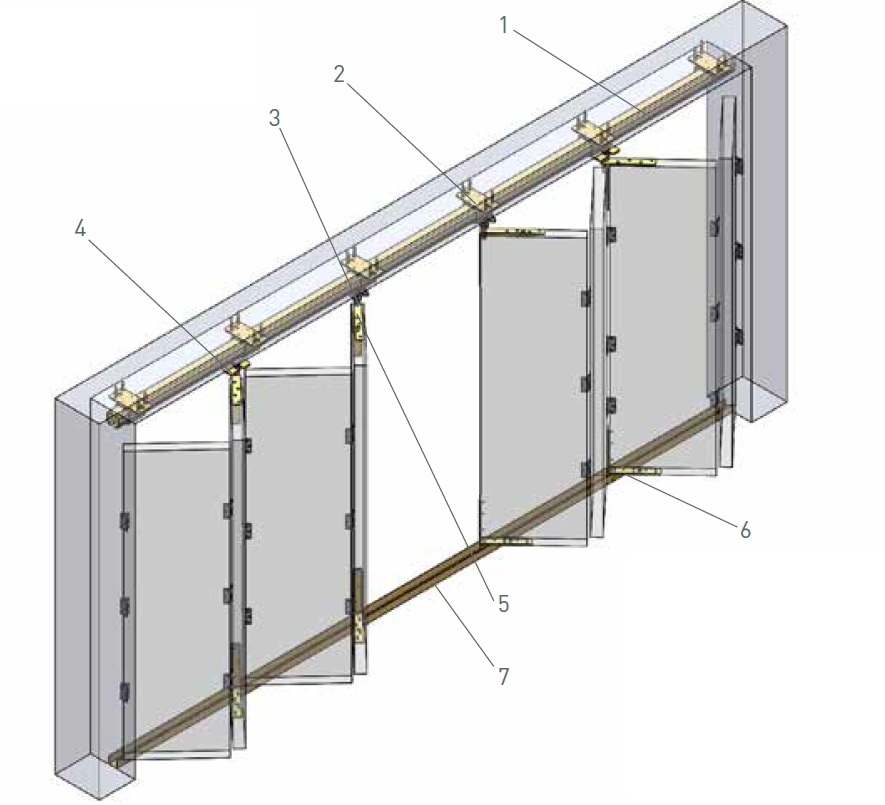 Types of folding door track systems
1) Bi-Fold / End Folding Sliding Doors (door fixed in corner of the panel)
Doors fold at the end of panels and lay flat when in the open position. This method uses the least amount of space to store the doors and only protrudes from one side of the track.

2) Harmonica / Centre Folding Sliding Doors (door fixed in middle of the panel)
Doors fold from centre of panels and lay flat when in the open position. This method requires that the first door panel is half the width of all of the subsequent doors. It utilises the space on both sides of the track so that the storage is not all to one side.


Downloads

Case Studies

Also Known As
Folding door track
Folding door rail
Folding door gear
Barn door track
Barn door rail
Barn door gear
Top folding door track
Top folding door rail
Top folding door gear
Industrial folding door track
Industrial folding door rail
Industrial folding door gear

Enquire About This Product